If one picture is worth a thousand words,
ON THE FRONTLINES: DOING BUSINESS IN CHINA
is priceless. The access they achieve is truly remarkable. Anyone at all interested in China will find
ON THE FRONTLINES
well worth the investment."
-
Lee Shoulders,
Dir. Of Archive Films, Getty Images
Click for a
complete list
of the people we interviewed.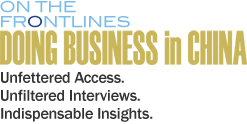 See For Yourself With These Video Previews...
Just 7 minutes-that's all it will take for you to realize the impact of the incredible new business tool
ON THE FRONTLINES: DOING BUSINESS in CHINA
because that's all it takes to view two of our many previews.
In 2009, the interdependence of the American and Chinese economies is obvious. The China-savvy already know they need the information on these disks (see Reviews). Everyone else will find the DVDs immediately useful...and enjoyable to watch. That's why we're providing these previews.
The full set is created from over 800-hours of high-definition video and over 200 candid interviews, distilled into five DVDs and an incredible CD-ROM with everything from hard business data on China's provinces to podcasts on China's business culture. Order yours today.