ON THE FRONTLINES
captures the reality of doing business in China. Host James Fallows illustrates the real thinking behind Chinese business practices. He gets executives to reveal secrets of success that usually take years to learn."
-
Chris Koch,
President, Asia-Pacific, Carlisle
Click for a
complete list
of the people we interviewed.
Seeking to buy our DVDs & CD-ROM in the People's Republic of China?
Please contact:
eileen@technomicasia.com
Why Learn the Hard Way?
Now You Can See Chinese Business in Action on These New DVDs.
Most American businesses are hugely profitable in China, even in the current global recession. Of course, few boast about it. (Just check out General Motors in China.) China's economy is still set to grow 8% in 2009. More importantly, Chinese companies are now quietly buying Western stock, learning to control a company with far less than a 50% stake.
Fortunately, everyone can profit. You know your business. Discover how to conduct your business with China. Seeing business in action on these new DVDs will show you how to apply your current knowledge in ways that make sense in China. The information-packed bonus CD-ROM contains business products that sell for $149 elsewhere.
Whether you are manufacturing, marketing, sourcing or distributing...or if you simply seek to understand the forces shaping the 21st Century... this is a resource like no other about a country like no other.
The Two Key Questions You Need to Ask About Doing Business in China.

Preview the information-packed CD-ROM that comes with the DVDs: The China Toolkit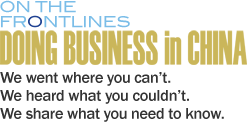 Questions or comments?
Email us at:
feedback@chinadoingbusiness.com
(Emails will likely be answered more quickly than phone calls. We travel frequently.)
ON THE FRONTLINES
DOING BUSINESS IN CHINA
197 North Mountain Ave
Montclair NJ 07042
(973) 509-9700